| | |
| --- | --- |
| Position Type: | Full-time |
| Date Posted: | Aug 17, 2020 |
| Experience: | 2 Years |
| Education: | College Diploma (2 years) |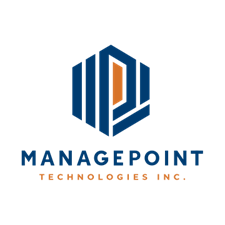 Job Description
ManagePoint Technologies was founded on the principal of using Technology to enable businesses to do what they are best at. We strive to provide services which aide businesses in doing what they do best, with solutions tailored to your business' needs.
ManagePoint Technologies focuses on the intersection between technology and business. Businesses are growing more and more every day. At the heart of this growth is technology; from communication to automation. We believe in providing technology solutions which meet your current and future needs to get you where you need and want to be.
In this position you will be the second technician on the ManagePoint team reporting directly to the owner. You will be responsible for handling calls to the Service Desk, triaging client issues or questions, categorizing those tickets, and resolving or escalating them as required. You will also participate in IT Solution Architecture and Design as well as Quoting these solutions as IT Projects. You will also assist in the staging, configuration, deployment, and support of these Projects. The successful candidate will also get to explore the field through on-site visits or service calls to client sites and assist in project implementation and rollouts such as new IT infrastructure builds, process improvement or implementation, security and surveillance projects, and on occasion assist with IT budgeting for ManagePoint and/ or our clients on a regular and recurring basis. We are growing steadily which is the driving force behind the addition of this role and look to create an environment for all who choose to work here to feel included and rewarded for their contributions as well as grow with the company.
If you meet or exceed the qualifications listed below, we look forward to receiving your application, if not, that is ok as long as you meet some of the qualifications and are eager to learn we look forward to reviewing your application as well. Applicants must reside in the London, Ontario area.
Core Qualifications/ Requirements:

Ability to prioritize and resolve IT problems quickly and efficiently

Install/ Support/ Maintain PCs and peripheral devices

Windows, Linux, and Mac OS Knowledge

Proficient with Security such as Encryption and MFA

Strong Customer Service and Empathy skills

Demonstrated Communication Skills both Oral and Written

Strong understanding of Active Directory and Group Policy

Familiar with additional Server roles such as DNS, DHCP, File & Print Server, Radius/ NPS

Strong understanding of VMware

Understanding of Networks (Wired and Wireless)

Proficient with Microsoft Office, SharePoint, OneDrive, and Teams

G License and access to reliable transportation

Additional Qualifications/ Nice to Have:

Understanding of Routing Protocols

Firewall best practices and troubleshooting

Linux OS such as Ubuntu, Redhat, CentOS

CCNA or CCNP capable

VoIP technology and use cases

Database Creation, Management, Scripting

Project Management fundamentals

Background in Event Management
To Apply for this position
Submit your cover letter (if applicable), and resume by email to
careers@managepoint.ca
and include the job title you are applying for in the subject. ManagePoint is an inclusive employer and encourages all who feel they meet the criteria for this position to apply.
While we appreciate all responses and do take time to review each of them, decisions will be made solely based upon an individual's skills as they align with this posting. Only those chosen to be invited for an interview will be contacted. Should you not be chosen to move forward at any point we will keep your application on file should a future opening match your skillset.
Application Contact Information